Home
 ImageJ2x April 2015
Graphics Text Editor ist neu überarbeitet. Aus der Schrift Tabelle kann man Schrift, wie Sansusi auswählen. weiterhin ist die Größe und Still sowie Platzierung auswählbar.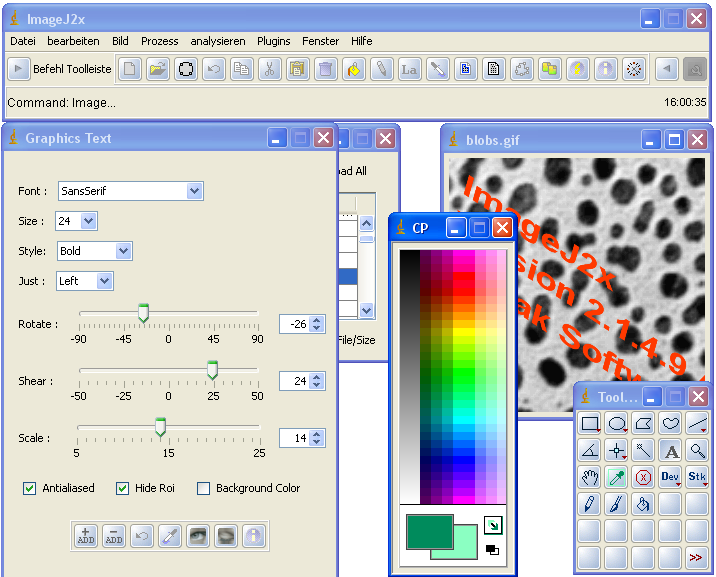 Neu sind die Transformationen: Rotation, Scherung, Skalieren (rotate, shear, scale). Nach doppelklicken von Annotext Button in Toolbar Box wird Graphics Text Tool geöffnet. Der Rotationswinkel ist gleich Null gesetzt. nach Text Eingabe kann man neuen Wert zwischen -90 und +90° einstellen. Bei Scherung ist der Wert zwischen -0.5 und +0.5 und bei Skalieren 0.5 bis 2.5 einstellbar.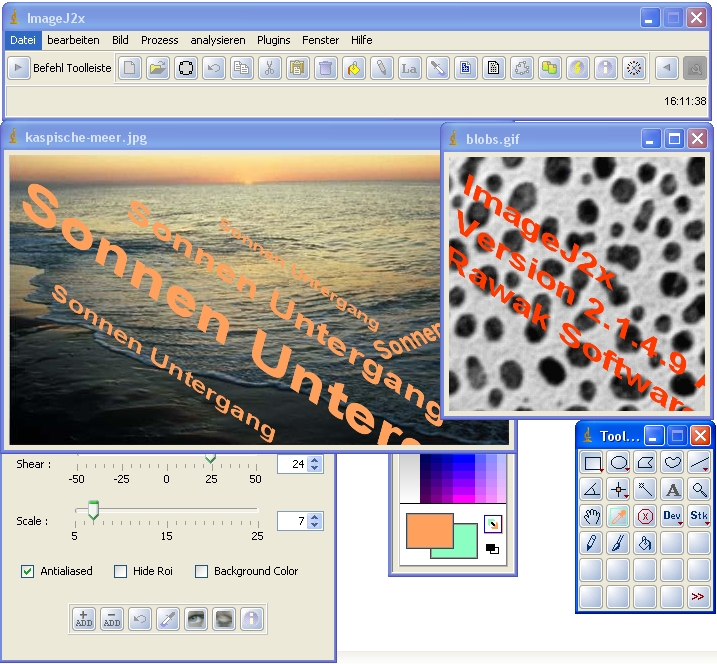 Über drei Checkbox, Kantenglättung, Roi Ausblendung sowie Hintergrundfarbe (Antialiased, Hide Roi, Background Color) kann man weitere Einstellungen vornehmen.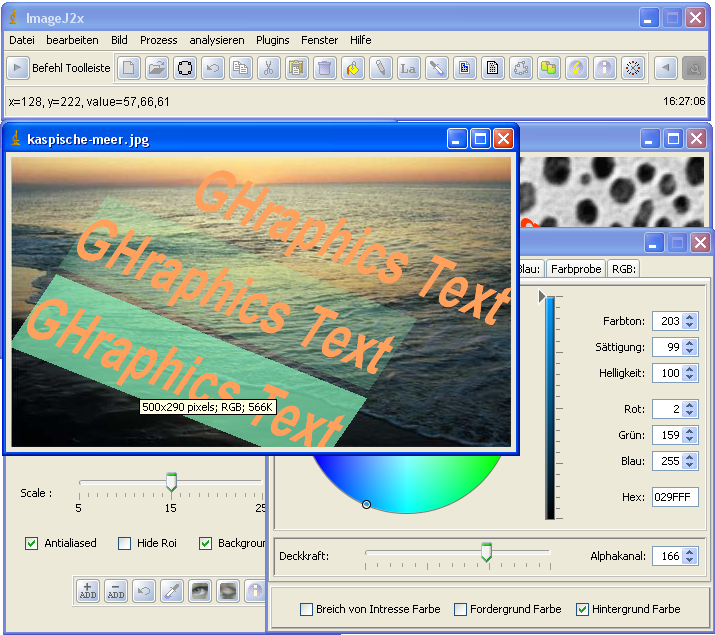 Templates control the look and feel of your website.
This blog is installed with the Cassiopeia template.
You can edit the options by selecting the Working on Your Site, Template Settings link in the menu which is visible when you log in.
For example you can change the site background colour, highlights colour, site title, site description and title font used.
More options are available in the site administrator. You may also install a new template using the extension manager.

Your site has some commonly used modules already preconfigured. These include:
Image (type: Custom), which holds the image beneath the menu. This is a Custom module that you can edit to change the image.
Popular Tags (type: Tags - Popular), which will appear if you use tagging on your articles. Enter a tag in the Tags field when editing.
Older Posts (type: Articles - Category), which lists out articles by categories.
Syndication (type: Syndication Feeds), which allows your readers to read your posts in a news reader.
Login Form (type: Login), which allows your users to access restricted areas of the website.
Each of these modules has many options which you can experiment with in the Module Manager in your site Administrator. When you are logged in you can also select the edit icon in the top right corner which will take you to an edit screen for that module. Always be sure to save and close any module you edit.
Joomla! also includes many other modules you can incorporate in your site. As you develop your site you may want to add more modules that you can find at the Joomla Extensions Directory.

This is a sample blog posting.
If you log in to the site (the Administrator Login link is on the very bottom of this page) you will be able to edit it and all of the other existing articles. You will also be able to create a new article and make other changes to the site.
As you add and modify articles you will see how your site changes and also how you can customise it in various ways.
Go ahead, you can't break it.